Sew Simple, Look Complex!
Do you like the look of broderie perse (or chintz appliqué) but think they are too complicated for you to make? Printed panels make it easy. You can piece preprinted blocks together with extra background fabric to connect the blocks or surround them with pieced borders. You can also appliqué the motifs to a background to create your own arrangements and collages. These techniques were also used by quilters in the early 1800s. A block printer in Philadelphia named John Hewson, made a business of custom block printing these panels for quilters and many of these quilts still survive today. Barbara Brackman talks about many of these quilts on her blog. Andover Fabrics has reproduced some of the Hewson designs used in a quilt in the Winterthur Collection. This link will give you a free pattern for the original quilt.
Here is a link to a different quilt made with the same collection of fabrics by Andover Fabrics.
I'm offering many of the fabrics needed to make the quilts or one of your own design. These fabrics are very difficult to find and are currently out of print. I am only offering the Vase of Flowers panel in a bundle with the other coordinating motifs. To order email jan@janwass.com. Border fabric is very limited. Shipping and handling will be calculated based on the size of the order.
Vase bundle includes: 1 Vase of Flowers panel, 2 Floral Bush panels with 14 butterflies, 6 Floral Spray panels, 4 Large Bird and Bush panels, 4 Medium Bird and Bush panels, and 8 Small Birds. Price is $76.
Vase of Flowers
Motif: 21.5″ h x 19.5″ w
Block approx 23″h x 21″ w
---
Floral Bush

Motif: 17″ h x 19″ w|
Block approx. 16″ on 2 lower sides
and approx. 15″ pm 2 upper sides
2 bushes and 14 butterflies for $18.
---
Floral Spray

Motif: 9″h x 11″ w
Block approx. 11″ h x 14″ w
$3.00 per panel
---
Large Bird & Bush

Motif: 13.25″ h x 9″ w|
Block: approx. 11.5″ h x 9″ w
$3.00 per panel
---
Medium Bird & Bush
Motif: 9″ h x 5″ w
Block approx. 10.5″h x 6″ w
$2.00 per panel
---
Small Birds, facing left or right

Each motif: 4.25″ h x 3.5″
Block approx. 5.25″ h x 4/4″ w
$1.00 per bird
---
Butterflies:

Large motif: 3″ h x 4″ w
Medium motif: 2″ x 2″
Small motif: 1″ h x 1.75″ w
.50 per butterfly
---
Large Border motif is 9″ w

Can be cut approximately 10″ w
Very limited quantity available
---
Floral spray coordinate (not Andover)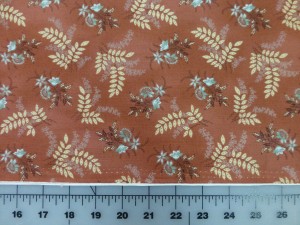 $12.00 per yard
---
Blue mini-check coordinate

(not Andover)
$12. per yard
---